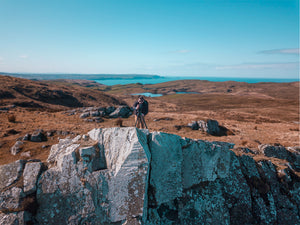 The North Coast
There is something about the north coast that is breathtaking.  Wide open spaces, the clarity of light, wild waves that crash on rugged rocky shores ad sunset hues that flood the sky and sea.  My passion is to capture this coastal beauty, creating art for your walls that you will get lost in.
Make it
Whether it takes a 5 hour exposure on a barren outcrop, or waist high waders, I strive to capture spectacular images of our beautiful coast.
Print it
I use high quality paper and inks to give me work the finish that you homes needs. Frames are a black, timeless in style to set off the vibrant and bold images.
Hang it
Easy, put a screw up and hang it! All my photographs share the same horizon so they hang harmoniously side by side, creating a stunning collection in your home.
Reviews
We recently bought 4 61x91 Liquid Mountain prints from Conor and wow. There in my office, I find them so relaxing to look at and they feel great to have when people come over for meetings so many compliments. great service I ordered my prints and had them a week later. Thanks, Conor!

Patrick
We got a large framed Cooridant from Conor, it's the electrical storm, we put it in the hall and I find my self tripping up the stairs because I love looking at it every time I go upstairs. It reminds me of my favourite location on the coast Ballycastle. Conor did such a good job in framing it to for a reasonable price too I may add. I will be back for more when we get the living room done. 

Shane